Here at Houston Mind and Brain, in addition to normal deep TMS, we also offer two alternative forms of TMS treatment: theta burst stimulation (TBS) and accelerated TMS protocols.

TBS is a variation of deep TMS that uses low stimulation intensity and a short treatment length (~ 7 minutes compared to 20 minutes for standard TMS) to deliver deep TMS to treat depression. TBS for depression was FDA approved in 2021, and it is a rapidly growing method for treating depression and numerous studies have shown TBS's efficacy, even when other methods such as antidepressants and psychotherapy have failed. More specifically, a 2020 review of 10 studies regarding the efficacy and tolerability of TBS showed that 40% of patients who underwent TBS responded to the treatment and 20% achieved remission entirely. All of these effects were achieved without major adverse events. In addition, a 2018 study found that TBS, although shorter in duration, was just as effective as normal deep TMS in treating depression.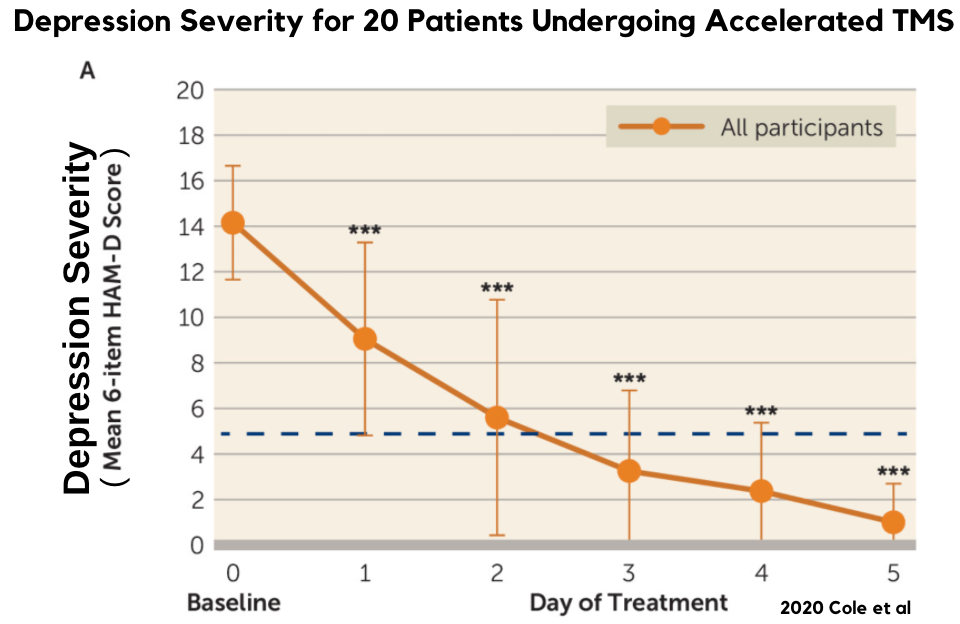 TBS's short treatment times paves the way for accelerated TMS protocols, where multiple treatments are given in a single day. These protocols can help with patients who have busy schedules and struggle to fit daily treatments into their schedules. A landmark 2020 Stanford study of accelerated TMS showed that accelerated TMS treatments were able to significantly lower depression scores over the course of just 5 days. In addition, another 2020 study of accelerated TMS using the same H1 coils that we use in our clinic also showed that accelerated TMS was effective in treating depression, with the added potential of more quickly reducing depression symptoms.

Here at Houston Mind and Brain, in addition to normal deep TMS protocols, we also offer TBS and accelerated TMS at the discretion of Dr. Cho. If you are interested in the wide range of TMS services that we offer for depression and OCD, give us a call at (832) 699-7922!